''
Open from Saturday, December 23, 2023 to Sunday, March 31, 2024
The main packages
Buy your package / View all rates and group rates
Adult
Child
(ages 5 to 12)* and
and Seniors
( 65 and over)*
Student */**

Day

28 €

21 €

24.50€

Morning (until 1pm)

19 €

13 €

18 €

Afternoon (from 12pm)

22 €

16.50 €

18 €

2 days

51.50 €

39 €

 

3 days

74 €


55 €

 

4 days

94 €

71 €


 

5 days

113 €

85 €


 

6 days

134 €

101.50 €


 

7 days

150 €

113.50 €


 

Consecutive additional days from the 8th day, taken in one go
18 €

16.50 €


 
*On presentation of proof of purchase
**On presentation of a valid higher education card
A "Hands-Free" holder is required for all package purchases. It costs €3. If you already have such a holder: reuse it!
Free ticket for children under 5 with proof of age.

Season package rates : 
Adult  
Children
(from 5 to 12 years old)
Seniors*
(65 and over)
Early bird price


(until November 15, 2023)

180 €

152 €

Full price


(from November 16, 2023)




273 €

189 €
*On presentation of proof of purchase
Crévoux Ski Liberté: the loyalty card that makes skiing easier
No more checkouts!
Pay only for the ski days you use!
-10% off your first 14 days
-15% off from your 15th day!

SKI LIBERTE card price: 28€, Pass nominative. Allow 3€ for support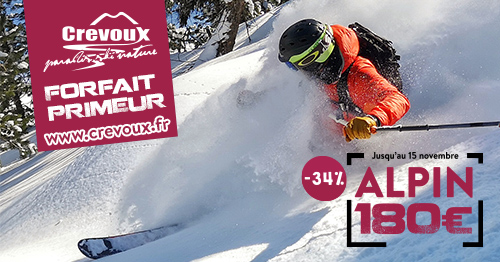 Season package
Gone are the queues at the checkouts, the pressure to make the most of the day, the early morning after a snowfall, the luxury of a weekday...